Web Design in Wellingborough: Sleek websites that work well on mobile devices
One of the very first discussions we have with our clients is focused on their individual needs and objectives. We know that for many teams, it's easier to discuss the look and feel of a site and the individual elements needed, however, our experienced team is focused on helping you grow your business. That's why we design cutting-edge websites that attract more traffic and convert more leads.
Freetimers offers a local website design service in Wellingborough for businesses of all sizes.
We've worked to improve website traffic, generate brand new leads for clients and increase sales through both simple and complex websites. Our goal is to bring your vision of the perfect website to life. Aesthetic design is always important, but we also get to grips with the functionality, speed and usability of your website to appeal to the modern internet-savvy searcher.
Here's how we do it
Our team of website design specialists work closely with our marketing team and this means our website designs can be complemented with SEO, PPC advertising and marketing campaigns. We can, therefore, shape your website around your individual needs, offering complete digital success.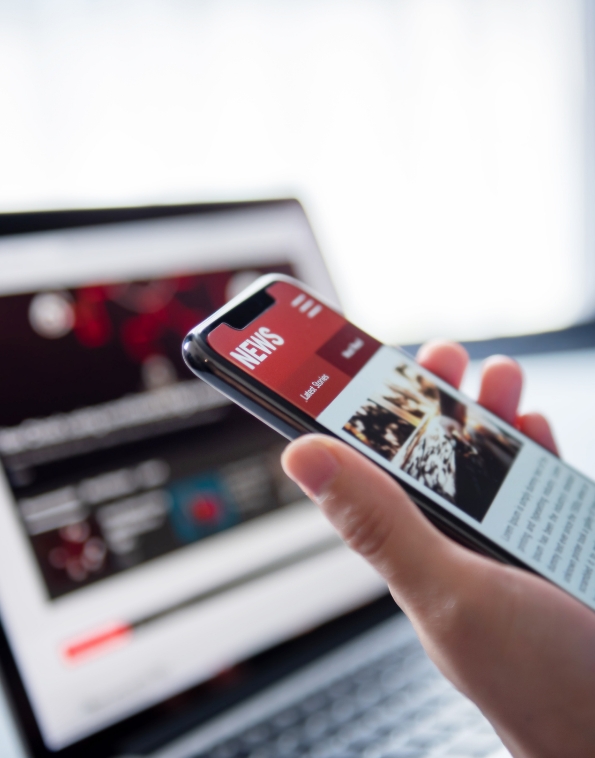 Responsive websites for mobile
One of the most crucial aspects of any modern website is mobile-friendliness. Millions of people use their mobile phones to search for products and services online every day. If your website isn't easy to use on a mobile platform you're losing out on huge traffic and conversion potential.
There are many aspects that can have a negative impact on your mobile success such as:
huge images
bulky videos
a UI that doesn't adapt to screen size
general page slowness when loading on a 3G, 4G or 5G connection.
We can ensure your website is designed to bring you success, and we'll start by analysing your site. If it was developed in the last 2-3 years but performance isn't at the level you expect, there are ways we make improvements without the need to begin entirely from scratch.
Alternatively, if your website is out-of-date and has not had a great deal of attention over the last 10 years or so, it's often much easier for us to start fresh. Our approach will always depend on our client's individual needs to it's always best to contact Freetimers and begin the discussion. We can then offer a diagnosis and quote for your company in Wellingborough.
Are you looking to sell more with eCommerce?
More and more people are turning to eCommerce to pick up products and services, no matter whether their service is local in Wellingborough, national or international. The sooner you get your products online the better - you'll see a huge improvement in your ROI. At Freetimers we use our experience of building fast and sleek websites to create a shopping experience like no other.
We'll focus on your UI to make sure it's easy to use and navigate, whilst turning our attention to the categorisation of your products, finishing up with the implementation of a secure payment system that your customers can trust.
Trusted website design services in Wellingborough
Each website requires an individual touch as no two websites are the same. Once we've completed our analysis of your site, we can create a working plan, sharing the details with you as we go. It might be that your website needs refreshing in terms of page speed - a huge ranking factor for search engines, especially Google - or your ROI is poor when converting traffic into sales. As we've worked across both SEO and PPC as well as web design and development, we can create a package that covers every aspect of digital success.
To learn more about us and how we can help you, please call Freetimers today on 01604 638 421 or send us a message and we'll be back in touch as soon as possible.