Image choice on your website is one of the crucial components for success. With eye-catching, descriptive and professional images, you can positively affect the perception of your brand and enhance the look and feel of your website.
The right hero image can make or break a website, so it's essential to consider the message you're conveying to visitors and customers. As we head deeper into the digital age, it's crucial to grab the visitor's attention as soon as possible. A recent scientific study 1 found that 90% of the information transmitted to the brain is visual, whilst research at 3M Corporation 3 concluded that we process visuals 60,000 times faster than text.
We know imagery is vital to good user experience, brand identity and decision-making, but there are many different aspects to keep in mind. Below we've detailed some key aspects of choosing the right image for your website.
Blurry/pixelated images
Blurry images are more common than you'd think on the web. When we undertake projects, we often see photos that are very small but are intended for use in larger spaces, such as a banner or hero image. Whilst the image may be clear at its current dimensions, when it is scaled up past its actual size, it can quickly lose quality and become blurred or pixelated. You have come across this in the past if you've found imagery that looks sharp on a mobile screen but blurry on your desktop computer. It's crucial to ensure images are optimised for the web and resized for their intended use, freeing up valuable storage space on your website and providing a better user experience.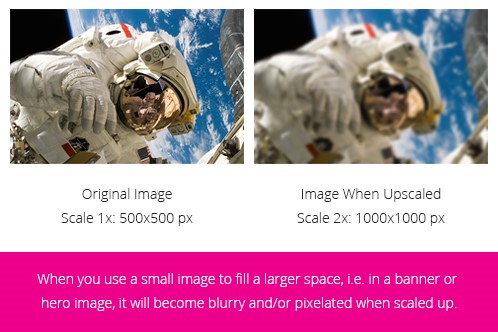 Contextual images that tell stories
Images can tell stories, so they can be a powerful tool for web designers. When used correctly, the right shots convey a message to the viewer and add visual appeal to the overall website design. Good quality website imagery can grab our attention, trigger emotion, and even encourage us to take action. At the same time, they can be used to build trust and credibility.
For example, if you sell sweets online, uploading a picture of a cute puppy would not benefit you. Let's say you are writing a new blog post for your website, talking about selling apples and their health benefits; then the below image 2 would be quite appropriate. However, if you were trying to sell the apple, the image doesn't particularly give off that impression. Nor does it focus on the actual subject, and it introduces something else into the picture, which is no longer relevant.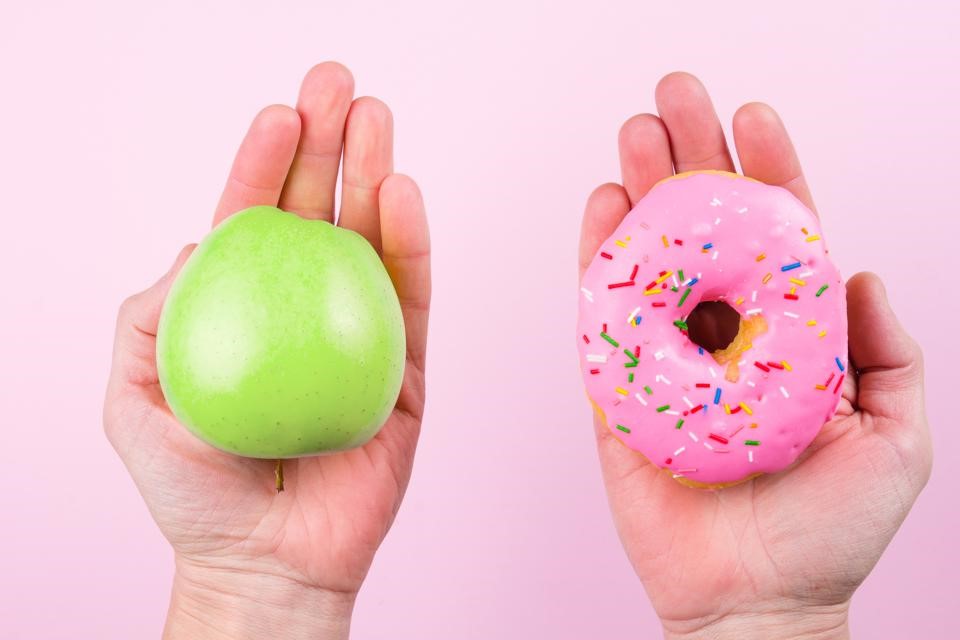 Too Dark? Too Light? Or Just Right?
Images are quite a tricky subject at times. You may come across images that are a little too dark, lacking focus on essential details, or too bright that they detract from the overall message you're looking to convey. It can often be relatively easy to make an image look good on one screen, but the colours are all different when you view it on another. This is why it's crucial to be aware of an image's technical and emotional aspects when making your selection. The technical side includes resolution, focus, aspect ratio and lighting, while the emotional side is more about how the images make prospective customers feel.
With the help of an experienced web designer or image reworked, photographs can be tweaked to help you achieve your intended emotion or look and feel. For example, the below photo looks great but a little lacklustre. As you can see, making some minor enhancements can go a long way to make the photo look even better.

Crop / Aspect Ratio
When selecting the right image for your website, choosing the right crop and aspect ratio is important. You want to ensure the image is cropped correctly and the right size and shape for your website. You also want to ensure the aspect ratio is correct so the image looks its best. The aspect ratio is the width of an image divided by the height of an image. The most common aspect ratios are 4:3, 3:2, and 16:9. You can use cropping and resizing tools to change the size and shape of your images, but you may find that when cropping the image accordingly, you lose important details in the shot. Therefore, when sourcing stock imagery or taking high-quality photographs to reflect your business, products and services, you need to consider the aspect ratio from the start.
Don't overdo it with stock photography
If you use too many stock photos throughout the website, it can be tricky to provide prospective customers with an authentic representation of your brand. A good rule of thumb is to use stock photos sparingly and supplement them with high-quality original images and videos whenever possible.
Images can make or break a website. It's essential to choose the right ones that will convey your message clearly. Here at Freetimers, our experienced, creative designers are experts in web design and UX strategy. We can help you create a website that elevates your brand, showcases your products and services in the best light and functions flawlessly. To learn more about us and how we can help you, please send us a message or call 01604 638 421.
References
1. http://news.mit.edu/2014/in-the-blink-of-an-eye-0116
2. https://www.forbes.com/sites/forbescoachescouncil/2017/05/19/the-difference-between-making-a-choice-and-a-decision/
3. https://oit.williams.edu/files/2010/02/using-images-effectively.pdf